What Are Psychoeducational Groups For Addiction Treatment?
Psychoeducational groups combine addiction education with elements of group therapy. Participants learn the consequences of substance use as well as healthy coping skills that they can use in their recovery.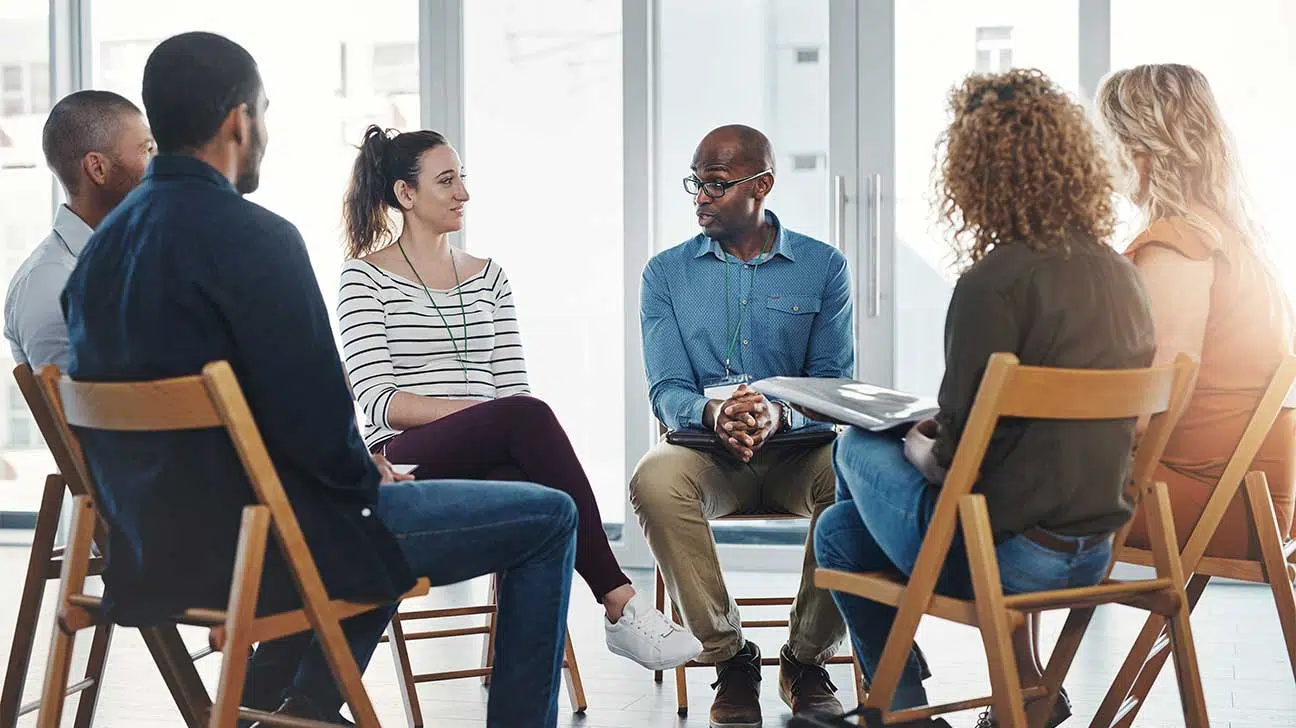 Group therapy is one of many effective therapies for people with addictions. Just like individual therapy, group therapy has several variations.
For example, one form of group therapy is called a psychoeducational group. This type of group helps participants learn about substance abuse, how addiction affects the brain, and more.
While group members can get to know one another during sessions, the primary focus is learning about addiction and its consequences.
What Are The Benefits Of Psychoeducational Groups?
Psychoeducational groups work differently than traditional group therapy types. The differences can benefit many participants.
Access To Information
Psychoeducational groups provide access to information that some participants may not have had otherwise.
When people understand how addiction works and how drugs impact the brain, they can see the importance of sobriety.
Reference Material
One of the primary differences between psychoeducational groups and other types of group therapy is that psychoeducational groups provide reference materials.
Often, group members are given workbooks, handouts, and similar materials. Members can continue to reference these materials after the group has come to an end.
Practical Coping Skills
Psychoeducational groups, like cognitive behavioral therapy, teach coping skills that people can use when confronting triggers.
By having tools at their disposal, people can continue with their recovery after graduating from a treatment program.
Introduction To Group Therapy Dynamics
Many people are intimidated by the idea of group therapy. Some participants may not be used to sharing their struggles with others.
Because psychoeducational groups work differently, they can allow people to get used to group therapy dynamics without having to share an overwhelming amount of information.
Introduction To Other Forms Of Therapy
Addiction treatment can include many different types of therapy. For instance, individuals may use EMDR therapy, which focuses on processing trauma.
Meanwhile, other addiction group structures can help people explore different approaches.
While many options, such as relapse prevention groups, are available, a person can only participate if they know that these options exist.
Some psychoeducational groups may introduce these therapies, showing participants the choices that they have for treatment.
What Are The Drawbacks Of Psychoeducational Groups?
Psychoeducational groups may focus on substance abuse in general, or they may educate participants about a specific drug.
They do not always take a "deep dive" into how addiction impacts individual participants, although participants do get to share their thoughts, concerns, and questions.
As a result, these groups may work best as a supplement to other forms of therapy rather than a primary form of therapy.
Psychoeducational Groups At Spring Hill Recovery Center
Addiction is a treatable condition, and the most effective forms of treatment are the ones that address each person's individual needs.
At Spring Hill Recovery Center, we use many types of addiction therapy, including psychoeducational groups, to help people get the most out of their treatment plans.
If you or a loved one need substance abuse treatment, contact Spring Hill Recovery Center to learn more.
Written by Spring Hill Editorial Team
©2023 Spring Hill Recovery Center | All Rights Reserved
This page does not provide medical advice.