What Is A Meth Bong?
Meth bongs are used to smoke methamphetamine. They are typically long glass water pipes. Smoking meth from a bong poses many dangers, including lung damage, meth mouth, and paranoia.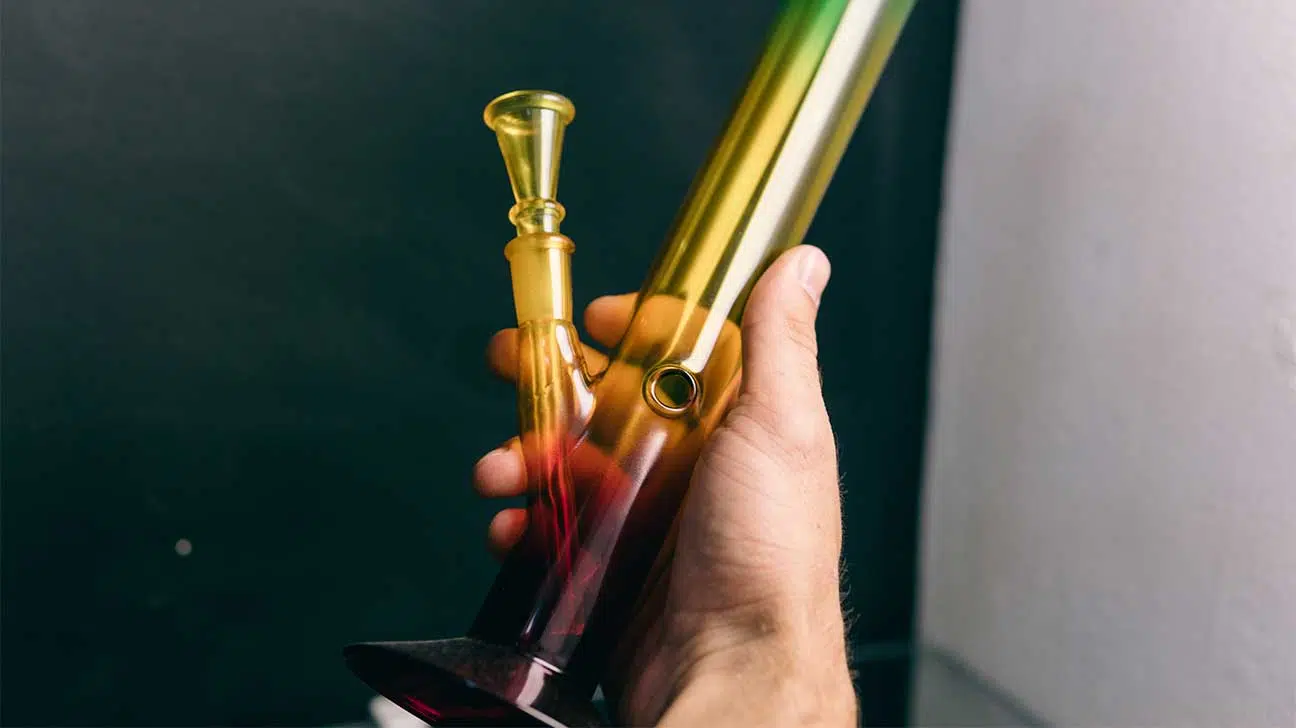 Identifying meth drug paraphernalia is one of many ways to recognize meth abuse. Though meth pipes are some of the most common ways to smoke meth, bongs are also used.
Bongs provide a larger intake of the drug than meth pipes. They also pose many dangers, such as meth mouth, damage to the lungs, and increased risk of addiction.
Read on to learn what a meth bong is and its associated dangers.
What Is Used As A Meth Bong?
A meth bong is similar to a bong used for marijuana abuse. These bongs are large water glass pipes, typically eight to 12 inches long.
Water glass pipes are typically bought in smoke shops. Some bongs are cheaply made out of water bottles or empty soda liters.
A new trending type of bong is made from silicone. They're marketed as unbreakable, enticing people who engage in meth abuse for their durability.
Dangers Of Meth Bongs And Meth Use
Crystal meth is one of the most powerful substances in the world. Usually, meth is smoked out of small bubblers and pipes.
However, bongs are becoming more common. Bongs are larger than normal pipes or chillums, creating many physical, mental, and child endangerment risks.
Physical Effects Of Meth Bongs
Bongs create stronger and harsher hits of meth to the body. This results in physical meth effects forming faster than other ways of smoking.
Physical health effects of smoking meth bongs are:
meth tooth decay
weight loss
irregular heartbeat
high blood pressure
labored breathing
sweating
burn marks
lung damage
chest pain
throat issues
altered brain structure
seizures
heart attack
stroke
hepatitis
tuberculosis
Mental Effects Of Meth Bongs
With larger doses of meth in the brain, a person will display a vast range of mental effects. These effects can cause issues with emotional and behavioral health.
Mental health effects of smoking meth bongs:
addiction
memory loss
paranoia
hallucination
violent and aggressive behavior
trouble with family, work, and friends
secrecy and lying
isolation
Child Endangerment Cases
Meth bongs may be recognizable to adults, but for many children, they may appear to be toys. There have been unfortunate cases where children are put in danger from reckless meth use.
In February 2020, a 5-year-old child Sophia Larson drank meth bong water. Her mother, Stephanie Alvarado, and two other cousins were smoking and snorting meth nearby.
Law enforcement in Garfield county charged Alvarado, Daniel Bello Alvarado, and Bertha Karina Ceballos-Romo with child abuse resulting in death.
National news outlets and local news in Colorado have covered the story extensively to spread the message about the dangers of secondhand meth exposure.
Harm Reduction Measures For Methamphetamine Abuse
Government officials have recognized the dangers of smoking meth. There are harm reduction tools that can lessen the effects of these dangers.
Safe Smoking Kits
Kits include alcohol swabs, mouthpieces, lip balm, and sometimes meth pipes. This helps decrease the effects of smoking meth while also stopping the spread of infectious diseases.
President Joe Biden has recently announced that the U.S. government will provide smoking kits for those in need of them.
Test Kits
Meth is frequently mixed with other substances, such as fentanyl and cocaine. In low doses, fentanyl can be fatal.
Test kits allow people who are using meth to check if there are any other substances present. If fentanyl is found in meth, it should not be used.
Addiction Treatment In Massachusetts
Meth addiction is treatable. At Spring Hill Recovery Center, our inpatient, outpatient, and detox programs provide safe and encouraging environments to find recovery from substance abuse.
Reach out to one of our treatment specialists to learn more about your recovery options today.
Written by Spring Hill Editorial Team
©2023 Spring Hill Recovery Center | All Rights Reserved
This page does not provide medical advice.