This is Where
I Change My Story
Addiction is holding you back, but recovery is possible. Spring Hill alumni and their families are evidence that, with treatment, a life in recovery is possible. A healthier life, without dependency, is waiting for you. Are you ready to change your story?
Call Us Now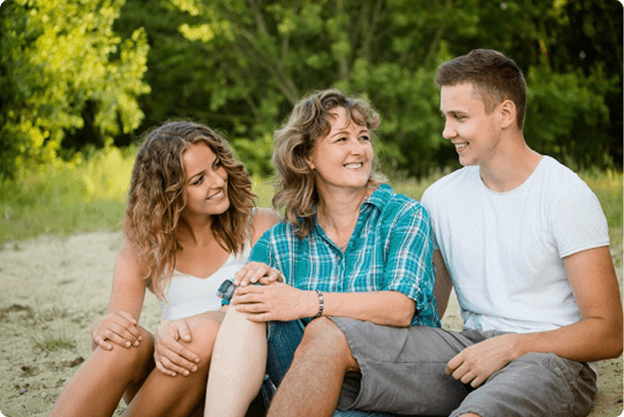 How Our Massachusetts Rehab Center Can Help
Evidence-based comprehensive addiction treatment tailored to you. Find your serenity in 70 acres of peaceful woodland, where the Spring Hill team will treat the root causes of your addiction. Our wooded open campus facility offers a full continuum of care, along with plenty of leisure time for reflection and encouragement of a healthier lifestyle.
Massachusetts Detox
Spring Hill partners with local Massachusetts detoxification centers for this important first level of treatment. This time of stabilization for the body and mind is necessary for you to begin addiction treatment. Spring Hill will arrange detox and transportation to our facility following your treatment.
Residential/Inpatient Rehab
Onsite housing at our Massachusetts campus located in the pristine woods with 24/7 access to clinical staff. Your unique addiction treatment plan will include a schedule of individual therapy, group therapy, and experiential therapies like hiking, yoga, fitness programs, nature walks, and more.
Family Weekend
Your family is encouraged to participate in your recovery. Our monthly program is an opportunity for your family to gain perspective on what you're experiencing and learn how to help you prosper after your stay with Spring Hill.
Alumni Support
We're here for you during and after treatment. As a patient at Spring Hill, a comprehensive aftercare plan will be developed for you and all former patients are invited to join our alumni network. Our goal is to develop a network of care to help transition you into a life of recovery.
Day Program
Spring Hill offers patients the option to step down from the residential program and continue to receive care in a day program with the possibility of residing on the Spring Hill campus. The day program is designed to provide ongoing support and treatment while allowing patients more independence as they prepare to transition to an aftercare option locally or near home.
Professionals Program
Every patient at Spring Hill receives a personalized treatment plan, but you may be concerned with the effects of addiction treatment on your career. Our staff spent a year researching the delicate nature of assessment and treatment for individuals in professional careers and specialize in high-quality addiction treatment for patients in healthcare, aviation, transportation, law, professional sports and other professional careers.
Programs We Offer.

Recovery Is Possible.
Inpatient, or residential addiction treatment, ensures that you are focused solely on recovering. As you reside at our comfortable, home-like facility, you will have 24/7 access to clinical care providers and a full daily schedule focused on therapies that will treat your addiction and its underlying causes.
Learn More
"The treatment team at Spring Hill surrounded me with compassion and love. They showed me that I was not only capable of living a better life, but I deserved it. It has now been almost four years since Spring Hill drastically changed the course of my life."

Samantha C., Spring Hill Alumni 2014
Take A Tour of Spring Hill
Recovery Center:
Surrounded by natural beauty, find your serenity at Spring Hill, an ideal location to heal your mind, body, and spirit. Start your journey to a life of recovery in a modern rustic family-like atmosphere. Spring Hill's 8 building campus is set in over 70 acres of woodland in North Central Massachusetts, where clean air and quiet will help you find relief from your addiction.
Learn More