New Jersey Inpatient Alcohol and Drug Rehab Centers
Drug and alcohol abuse is a significant concern in the state of New Jersey. Drug rehab centers in and near New Jersey offer a range of rehab programs to help residents conquer addiction. Treatment options include inpatient and outpatient rehab.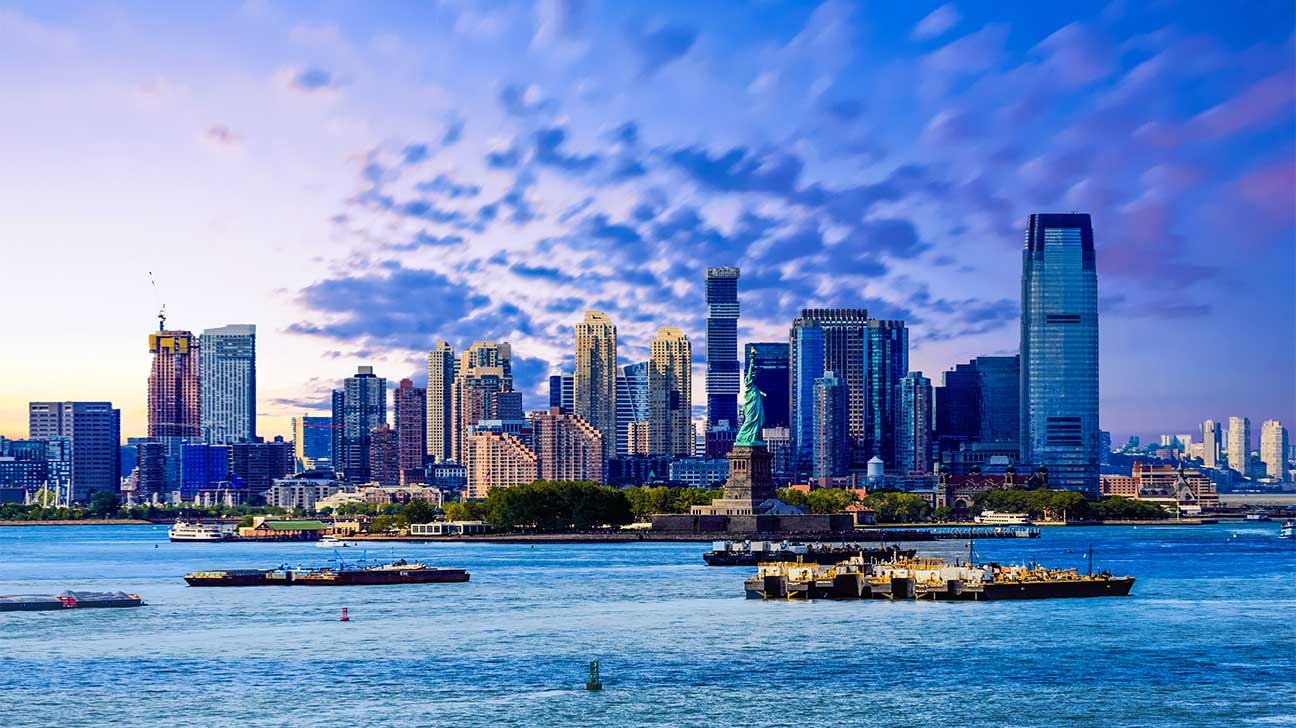 In 2018, nearly 90,000 New Jersey residents were admitted into a substance abuse treatment program. Among these residents, the most common drugs of abuse were heroin and alcohol.
Drug and alcohol abuse can have harmful effects on New Jersey residents' health and livelihood. Long-term drug abuse can lead to a cycle of addiction that can be difficult to break without treatment. Overcoming addiction may require multiple levels of care, including inpatient rehab and outpatient treatment services.
At Spring Hill Recovery Center, we are dedicated to helping addicted individuals and their loved ones find the support they need.
Here you'll find:
information about different types of addiction treatment programs
how to find the best rehab center for yourself or a loved one
information about drug and alcohol abuse rates in New Jersey
an overview of our accredited treatment center nearby in Massachusetts
New Jersey Substance Abuse and Addiction Treatment
Drug and alcohol rehab centers in and near New Jersey offer a range of behavioral health services for people struggling with addiction.
Substance abuse treatment services offered in these rehab centers may include:
Drug and Alcohol Detox Programs
Inpatient Treatment
Residential Rehab Programs
Partial Hospitalization
Intensive Outpatient Treatment
Standard Outpatient Treatment Services
The type of drug or alcohol treatment program a person needs will depend on several personal factors. For instance, if a person has a chemical dependency, it might be most beneficial to look for a rehab center that offers a detox program or coordinates with a nearby detox center.
Additional factors such as the drug of abuse, how long a person has been misusing drugs, and co-occurring health problems may also inform the level of care a person needs.
The level of care needed for a person can be determined through an initial drug and alcohol rehab assessment. An assessment of a person's substance use behaviors can be used to develop an appropriate treatment plan based on the individual's physical, mental, and psychological needs.
The first step of drug and alcohol treatment for New Jersey residents is typically a detox program, after which a doctor may recommend an inpatient or residential treatment program.
Inpatient rehab programs generally last 30 to 90 days. The types of treatment services offered in these programs will vary according to the facility.
Some rehab centers in and near New Jersey may offer specialized treatment services to treat certain populations, such as dual-diagnosis patients, veterans, pregnant patients, and patients with opioid addiction, among others.
Alcohol and Drug Abuse Rates in New Jersey
Like many other New England states, the rise in opioid abuse and fatal opioid overdoses has become a significant concern across the New Jersey population.
New Jersey has a drug-related death rate that is higher than the national average, at 30.7 per 100,000 residents, as of 2017. This rate has more than tripled since 2000. Nearly 90 percent of drug-related deaths in New Jersey involve opioids like fentanyl, which is up to 100 times more potent than heroin.
According to New Jersey substance abuse treatment admissions data, the most common drugs of abuse among New Jersey residents include:
alcohol
marijuana
cocaine
By county, the greatest number of New Jersey treatment admissions for addiction occur in Camden, Ocean, Monmouth, and Essex counties. The majority of treatment admissions in New Jersey occur among adults aged 24 to 39. Yet thousands of teens, young adults, and older adults are also reported to seek substance abuse treatment services each year.
However, treatment admissions data doesn't wholly reflect how many people in New Jersey struggle with alcohol or drug addiction. According to the Substance Abuse and Mental Health Services Administration (SAMHSA), only about 10 percent of those who struggle with substance abuse in the United States receive treatment.
Resources and Prevention Efforts in New Jersey
To combat New Jersey's opioid crisis and other harmful forms of substance abuse, state and citywide health departments have undertaken a number of efforts in collaboration with law enforcement and community-based agencies.
In order to address widespread drug and alcohol abuse in the state, here are some of the actions taken by New Jersey health officials:
expansion of supportive housing programs for people with opioid addiction who are at risk for becoming (or are currently) homeless
development of recovery homes, which are a type of transitional care for people recovering from addiction
funding substance abuse prevention coalitions across the state that focus on education, outreach, and making treatment services more accessible for New Jersey residents
What to Look for in New Jersey Rehab Centers
Finding the best drug or alcohol treatment center for yourself or a loved one can be an intimidating process. The choice of where to go for treatment is an important decision, and may require consideration of a variety of factors. These can include the type of insurance you have, type of substance use disorder, and other personal needs.
No two addiction treatment centers are the same. Rehab centers may differ in the type of approach they take to addiction recovery, and not all may offer the same types of treatment programs.
In searching for an addiction center in New Jersey and surrounding areas, consider looking for a treatment facility that can offer the following:
customized treatment approach: the best rehab centers understand that healing from alcohol or drug addiction can best be facilitated through a personalized approach to treatment.
continuum of care: offering treatment that spans multiple levels and intensity of care can help to provide the wraparound services a person needs to achieve long-term recovery.
supportive environment: having access to 24-hour medical and behavioral support in a serene treatment environment can be supportive to a person's healing process.
relapse prevention planning: providing relapse prevention strategies within a treatment program demonstrates a commitment towards helping patients sustain long-term recovery.
Using Insurance to Pay for New Jersey Drug and Alcohol Rehab
Cost is a common concern among New Jersey residents seeking drug and alcohol treatment. If you have insurance coverage, your insurance plan may include coverage for certain substance abuse treatment services.
Types of insurance that may cover substance use disorder treatment programs include:
Medicaid
Medicare
State-financed insurance
Military insurance
Note that most private rehab centers do not accept Medicaid. If you wish to enter a rehab center that does not accept your insurance, you may be required to pay out-of-pocket for your stay. In New Jersey, this can cost between $6,000 to $20,000 for a 30-day stay in an inpatient rehab program.
Depending on the facility, addiction treatment centers in New Jersey may offer payment plans for their patients. Residents may also be able to seek financial assistance through a treatment scholarship program.
To avoid unnecessary financial stress, consider contacting your insurance company to ask which rehab centers and alcohol and drug treatment programs near New Jersey are covered under your insurance plan.
Our Massachusetts Drug Rehab Center
If you or a loved one is looking for addiction treatment in or near New Jersey, Spring Hill Recovery Center located nearby in Massachusetts may be the right choice for you.
Our accredited rehab center offers a wide selection of addiction therapies and treatment services for residents from the Greater New England area, including residents from New Jersey.
Access to Medical Detox
It's highly recommended that New Jersey residents who are addicted to one or more substances first enter a medical detox program. Withdrawing from addictive substances can be very uncomfortable and potentially life-threatening without professional support.
Spring Hill partners with a number of local detox centers to help provide a smooth transition from detoxification into our residential treatment program.
Residential Inpatient Treatment
At Spring Hill Recovery, our residential rehab program offers a personalized treatment experience for individuals seeking to conquer drug or alcohol addiction and begin their path towards a happier, healthier future in recovery.
Our residential treatment program features a wide selection of traditional and alternative treatment services, including:
medication-assisted treatment (MAT)
behavioral therapies
group therapy
yoga
mindfulness/meditation
adventure-based therapy
art and music therapy
and more
Spring Hill Recovery offers a continuum of care to help patients transition through each step of the recovery process. Shortly after admission, each patient is given a personalized treatment plan custom-fit to meet their physical and mental health needs.
Intensive Outpatient Programs
At Spring Hill, our intensive outpatient program (IOP) is a less-intensive treatment option that involves attending drug and alcohol treatment for several hours a day, a few days a week.
Our IOP is generally recommended for patients who have just completed an inpatient treatment program, as a form of transitional care. Intensive outpatient can also be suitable for working professionals and others who require additional recovery support on an outpatient basis.
Aftercare
Patients at Spring Hill Recovery Center gain access to our alumni network following the fourth week of treatment, which includes access to alumni support events. Our alumni support program offers a beneficial way for patients to remain connected and recovery-focused following the completion of treatment at our rehab center.
How to Find Addiction Treatment When You Live in New Jersey
If you or a loved one in New Jersey is looking for addiction treatment in the Greater New England area, look no further than our accredited rehab center in Ashby, Massachusetts.
Finding a nearby rehab center for addiction treatment can be a stressful process.
At Spring Hill, we work to make this easier for residents by offering the following forms of assistance:
assisting in travel arrangements
verifying insurance coverage
performing an initial drug and alcohol rehab assessment
determining an appropriate level of care suitable to meet the needs of yourself or a loved one based on an initial assessment
Seeking treatment for substance abuse and addiction can be life-saving. Let Spring Hill help you break the cycle of addiction and begin your path towards recovery.
Call us today for more information about our Massachusetts rehab programs and the types of treatment services we offer at our serene rehab center.
Select a city below to find a rehab center near you:
Written by Spring Hill Editorial Team
©2023 Spring Hill Recovery Center | All Rights Reserved
This page does not provide medical advice.