Massachusetts Intensive Outpatient Program (IOP) For Alcohol And Drug Treatment
Intensive outpatient treatment is a flexible treatment option which helps you continue your recovery journey following residential treatment at Spring Hill.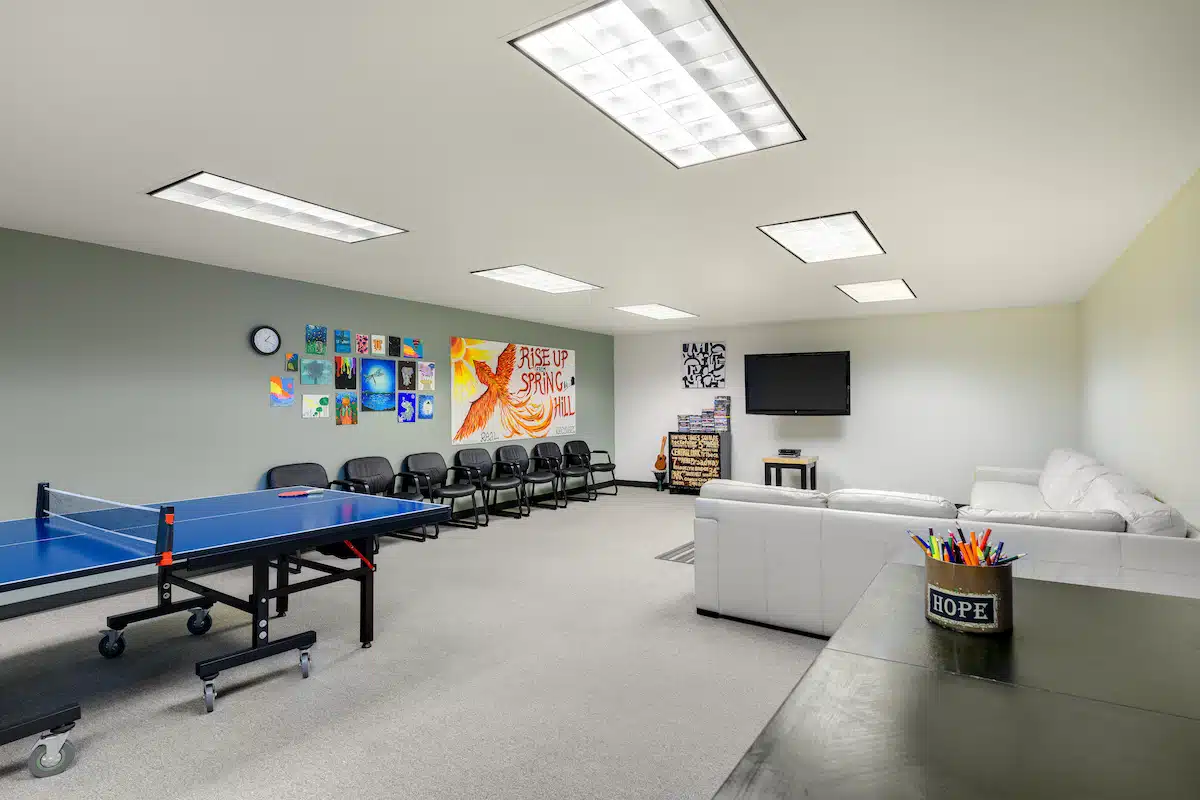 While there are many different forms of drug rehab programs, intensive treatments are the most effective for severe substance use disorders. These include inpatient rehab programs, partial hospitalization programs, and intensive outpatient programs.
At Spring Hill Recovery Center, we offer a residential treatment program for addiction as well as step-down or aftercare options to help our patients maintain their recovery goals long after completing our inpatient program.
This may include the intensive outpatient program (IOP) at our sister-facility, Northeast Addictions Treatment Center (NEATC).
What Are Intensive Outpatient Programs?
Intensive outpatient treatment programs (IOP) offer a level of care for substance abuse and drug and alcohol addiction that is both intensive and outpatient in nature.
While highly structured, intensive outpatient programs are flexible in format, which appeals to some addicted individuals who cannot commit to an inpatient rehab program.
IOP programs are sometimes called day programs because a patient will often attend treatment during the day and return home at night. This is in contrast to other intensive programs, such as residential rehab at Spring Hill.
In our residential treatment program, you stay onsite for the duration of treatment, which could last from 14 to 28 days or longer.
Intensive outpatient programs may last anywhere from eight weeks to 16 weeks, with therapy, group counseling, and case management taking place from three to five hours per day, two to four days per week. IOP programs help you stay committed to recovery by fostering relapse prevention.
Intensive outpatient care programs are offered as part of a continuum of care for substance abuse, mental health treatment, and dual diagnosis treatment. IOPs may also be found at hospitals, counseling centers, and non-profit organizations.
Who Benefits From Intensive Outpatient Treatment?
Intensive outpatient treatment may not fit the needs of every person who needs addiction treatment. For those with severe addictions, residential rehab programs may be the best option to help avoid relapse.
Prior to substance abuse treatment, a full clinical assessment may be necessary to help determine the best level of care for you or a loved one. After the drug and alcohol evaluation, you'll be placed in the drug rehab program that's right for you.
Patients who may benefit most from intensive outpatient treatment for drug and alcohol abuse include:
those who have completed inpatient rehab, such as our Ashby residential rehab program
those who no longer need medical supervision or 24-hour care
people who can live independently but want to remain committed to recovery
patients who have obligations that keep them from entering inpatient treatment
newly recovering individuals
Therapies And Treatments In Intensive Outpatient Programs
Each intensive outpatient program for substance abuse will be different from the next, but all IOPs offer therapy, counseling, and case management.
Therapies vary, but may include:
individual therapy sessions
group therapy
behavioral therapies like Cognitive Behavioral Therapy and Dialectical Behavioral Therapy
alternative therapies, like yoga, meditation, and mindfulness training
For those undergoing medication-assisted treatment, IOPs may offer medication management or continued access to medications like Suboxone and methadone.
When offered by a treatment center, intensive outpatient is often part of transitional living. This allows newly recovering individuals to live on their own in a sober living home, attend the IOP, and receive continued assistance and support from the rehab center.
Northeast Addiction Treatment Center's Intensive Outpatient Program In Massachusetts
At our sister-facility's accredited Massachusetts drug rehab center, Northeast Addictions Treatment Center (NEATC), intensive outpatient programs are facilitated in an urban environment in Quincy, just outside of Boston.
The approach at NEATC allows patients who have completed inpatient treatment and/or medical detox, or those who no longer need 24-hour care, to live on their own. During this time, patients receive staff support and intensive treatment for addiction on a regular basis.
While Spring Hill staff checks in, outpatient treatment and daily life is less structured than in inpatient treatment. This affords the flexibility needed to transition to life in recovery after completing our residential treatment program.
All of our intensive outpatient programs provide counseling, therapy, and individualized case management. The therapy groups you will take part in will depend on your customized treatment plan, which will be designed before the start of drug and alcohol treatment.
Some of the therapies and other treatments we offer in our rehab programs include:
Cognitive Behavioral Therapy
Dialectical Behavioral Therapy
individual and group therapies
counseling and case management
medication management
Treatment length for IOPs at our Massachusetts rehab center depends on your individual needs.
Toward the end of the intensive outpatient program, you work with case managers to determine the next step in their recovery care. This could be continuing with day treatment or moving on to outpatient services, such as counseling and support groups.
List Of Massachusetts Cities We Serve
Our residential rehab program and partnered intensive outpatient treatment program are offered in Ashby and the Boston area, respectively. However, we serve patients from all areas of Massachusetts, as well as residents from other states and greater New England.
Located an hour's drive from many major cities in the state of Massachusetts, Spring Hill offers individualized treatment plans with an evidence-based treatment approach.
Some of the cities nearby that we serve for Massachusetts addiction treatment include:
Types Of Insurance Accepted At Spring Hill
Many major health insurance companies cover the cost of intensive outpatient treatment. Spring Hill Recovery Center is in-network with many private insurance carriers.
We also accept some out-of-network health insurance plans to help more individuals find relief in recovery. However, if we are not in-network with your insurance, your out-of-pocket treatment costs could be higher.
When you call to learn about our rehab program, one of our treatment representatives can verify your insurance for you. If we are out-of-network with your insurance plan, we offer private pay options for you and your family members to help make recovery possible.
Find Addiction Treatment At Spring Hill Recovery Center
When someone is struggling with alcohol or drug addiction, time is of the essence when it comes to finding treatment. This is especially true if the person struggles with abuse of dangerous or highly addictive drugs, such as heroin, opioids, or alcohol.
Here at Spring Hill, we offer residential treatment for substance abuse and addiction. If we do not have an immediate placement for you at our Ashby rehab center, we may still be able to find a rehab program for you at one of our sister-facilities.
Spring Hill is part of a network of Massachusetts rehab centers, together which offer a full spectrum of care from residential, to outpatient and sober living, to aftercare programs.
If you or a loved one are struggling today, don't waste any more time in starting your recovery. Contact Spring Hill Recovery Center to discuss your treatment options.
Written by Spring Hill Editorial Team
©2023 Spring Hill Recovery Center | All Rights Reserved
This page does not provide medical advice.